W.W.M.S.A.C and All Things Magical
Welcome to the Shop Associated with W.W.M.S.A.C and all things magical. This includes new/unopened subscription items as well as magical themed art. I have also done my best to separate them into categories for ease of use here. I currently have 4 subscriptions++ and I fight with art supply and magical product hoarding, so I am very strict on what I am allowed to keep. MY loss is your gain! Best part about it, 50% of all sales goes straight back into awarding scholarships and grants for cancer survivors and caregivers (Shameless plug and Full Disclosure: Our programs are available to any cancer survivors or caregivers, please let me know or send a link to our group to anyone it may assist. I am the founder and president of this 501(c)3 nonprofit. Annually, I receive a $50 (FIFTY) stipend from our organizational budget. If you have any questions or concerns about our organization, please feel free to reach out.) I genuinely appreciate all the support that everyone has given. Thank you and keep making art!   
++Currently down to 2 since GeekGear shut down their subscription service but I still have many items from when I still had 4.
Attention Members: Past W.W.M.S.A.C members still earn points for every dollar spent to earn credits for the store or donating to charity. However, Fundraiser pricing will not be available until the member store is established. At that time, all members will receive a very, special member exclusive item as a thank you for your patience.
Interested in becoming a member?
When you join our community, you get excellent perks like Fundraiser pricing all year round*, free goodies, early access, extra contest entries, pts for every $ spend, and more.  You can also stop waiting for your acceptance letter because you get a customized acceptance letter! Sign up today to be a part of our magical community!!
Click our Crest below to sign up!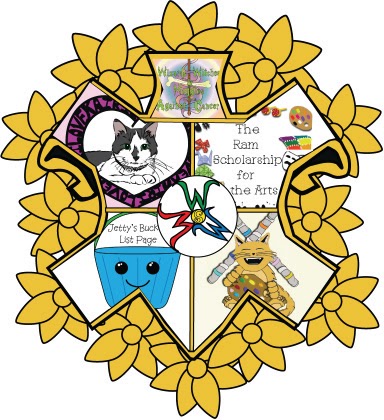 *Membership has been opened for 2023 but the house desserts have been temporarily suspended while we troubleshoot shipping issues. 1/2 off coupons still shipped with no expiration date. Please note: special member pricing has not been established so all members will receive a special edition item as a thank you once this perk is rolled out. This storefront and community roll out has been much more complicated than I planned.
All Shirts are new, but have spent some time rolled up in a bin waiting for me to be able to get this store up and running. All shirts are from subscriptions services, and all are no longer in print. Where applicable, I kept any stickers on shirts intact. All shirts are $10 but have an online retail value between $24-$27 and would need to be imported from the UK with all those shipping costs.
Jewelry and accessories including necklaces, hats, socks, keychains, bags
For the Home including mugs, blankets, teas also I combined the Bookmarks/Journals/Notebooks to here for ease of use- all things related to making your home more magical.
All Notebooks and journals are new, unless otherwise noted. These include replicas as well as film and book themes.
These replicas come new in box, unless otherwise noted, and I have done my best to photograph them to show their details.
All prints are new and come in original packaging. All magical art is on a limited run and once sold out, they will never be available again. Rolled prints have been placed in cardboard where applicable to safety. Please note rolled prints may have slight damage to edges from shipping- nothing major of note.
These are GeekGear Exclusive Unique Brand wands. Each comes in its original box with its detail card. They are all brand new and are created and designed by independent artists. They would make a perfect gift for the magic fan in your life for only $20 a piece!
LitJoy gets a ton of support from me so they have their own section worth of items I have accidentally double purchased or through pairing down my collection. There is also a referral link to save some money and more information about becoming a Lunacorn member.
I have a lot of magical art that will be coming to this area and every piece will be limited, small batch runs. So, get them while they're available.
I ship USPS Priority mail with tracking and insurance up to $50, if your purchase is more than $50, I will bill the extra insurance through PayPal. When possible, I try to re-use my subscription boxes and packaging so that others can have themed boxes as well. However, depending on the size of your purchase this may not be possible. I receive rave reviews for my packing, and I take great pride in making sure your items get safely to you. I use online retailers to determine the fair market value for each item to make sure everything is priced fairly. If you have any questions, please check out the contact page to send them my way. Again, thank you for taking the time to check out my Magical Shoppe, make sure to check back often for more items, my goal is to add new items and art weekly.
Click to return to the HOME page and to see how your support is making a difference, check out the nonprofit site!